| | | | |
| --- | --- | --- | --- |
| I can make new session windows but how can I keep them on top? | | | |
Written by Ghoti
Saturday, 27 April 2013 11:48
Unfortunately the underlying code MudMaster 2k6 session windows is based on does not support an "On Top" function. To keep a session window visible at all times you have to use the various window positioning options that do exist.
You have to not have any session windows maximized (uncheck Maximize on open in session options) and size the windows and position them so they don't obsure each other. You can also take advantage of the Max Width or Max height or Dock right options on your multiple windows to have the windows resize along with the main window resizes.
In the Window menu there is now a Save Position option you can use in each window to save the current size and position for when you start MudMaster 2k6. Remember to use this for every session window in turn that you set.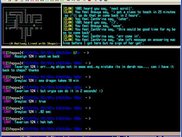 The screen shot with 3 session windows seen on the summary page of the MudMaster 2k6 project page uses a small window with no resize settings, a top right window which uses Dock right, and a main bottom session window using Max width. When the outer window is resized the inner windows resize to keep their borders aligned as before.